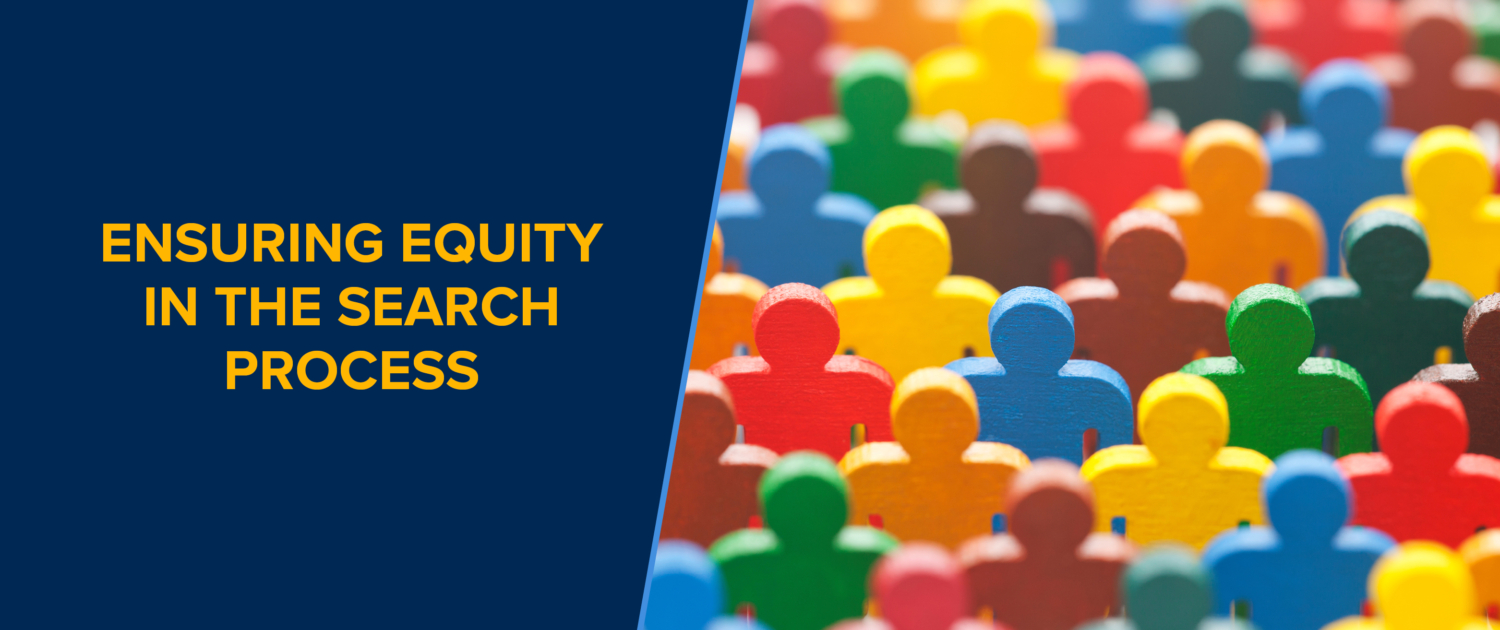 Ensuring Equity in the Search Process
By Carlos N. Medina, Ed.D. and Ashley Hunter | July 2023
Within higher education, the importance of remaining educated and informed about equity-related trends in hiring cannot be overstated. In our work as search consultants, it is our responsibility to actively address and mitigate disparities that arise during the search process and guide search committees toward more equitable practices.
We are increasingly aware of the need for a focus on equity in hiring as the country is experiencing a very challenging and increasingly tenuous diversity, equity, and inclusion (DEI) landscape. A recent article published by The Chronicle of Higher Education entitled "The Evolution of DEI" highlights some of the most serious challenges facing DEI work across our nation. The article cites that there are 21 states where legislation is being proposed to defund DEI offices, ban the use of diversity statements in hiring, or ban identity-based hiring and admissions practices. Four states have already passed and signed into law similar legislation. Additionally, the Supreme Court reversed Affirmative Action in higher education.
These changes in legislation are seemingly impeding the forward movement experienced since the 1960s Civil Rights era. We owe it to the great work we all do to stay well informed and continue to champion equity and help our partner institutions ensure fairness through objectivity in the search process.
As part of these efforts, at our annual Academic Search retreat, we welcomed Dr. Megan M. Chase and Dr. Raquel M. Rall from Bensimon & Associates to engage our team in insightful conversations surrounding their study, "Whiteness Rules: Racial Exclusion in Becoming an American College President."
Launched by Dr. Estela Mara Bensimon, Bensimon & Associates (B&A) was established in an effort to help leaders in the academy improve outcomes for minoritized students. The Whiteness Rules report, supported by the College Futures Foundation, was developed by a team of research associates affiliated with B&A and showcases data from a year-long in-depth examination of presidential search and appointment processes in California's public higher education system (University of California, California State University, and the California Community Colleges). The study illustrates how whiteness–in practices, values, and representation–has shaped the opportunities and experiences of candidates of color. More specifically, the researchers found that while the executive search process appears to be race-neutral, candidates of color experience the process differently than their white colleagues. Not only did the study find that search and appointment is racialized but that all stakeholders play a role in helping to sustain an equitable process.
How search firms aid in an equitable process
Participants in the Whiteness Rules Report believed that search consultants hold great power in the search process and can greatly influence search committees and, thus, the candidates selected to move forward in the search process. And while search consultants do facilitate the work of search committees, ultimately, it is the committees that lead the candidate assessments and interviews and the hiring authorities at institutions who determine the final appointments. However, we believe we can play a role in working with our partner institutions to build fair searches.
We take great pride in our special care of candidates, especially when it comes to supporting applicants from minoritized groups. As search consultants, we have the agency to make a difference and take the necessary steps to ensure that non-traditional and racially minoritized candidates are given the opportunity to present their best selves in the search process.
Additionally, to remain "race-conscious" in our work, our consultants, as well as search committees, must understand where inequities come to light in the search process so that we are able to combat them. There are occasions when search committee members gravitate toward comparing the qualifications of candidates against each other. This is when we as consultants have to be vigilant in our duties and remind committee members that the best practice is to compare the candidates' backgrounds and experiences to the qualifications reflected in the position profile and not each other. This ensures a much more standardized and objective process.
Although the institution holds the power to make decisions in the search, we acknowledge the responsibility we hold as an executive search firm in terms of bringing an equitable and inclusive lens to the search process every single time.
Findings of the report
Overall, higher education still holds the "white male archetype" as the embodiment of leadership. This means, during search processes, women and people of color feel the pressure to conform to the norms of this archetype in an effort to be seen as successful by the search committees. Many participants in the study expressed how this archetype has affected the way in which they behave and present themselves during interviews.
The report also indicates that candidates of color "Must Dodge the Racial Bias Battlefield." Meaning that it's not enough to have the right academic credentials and professional experiences, suggesting that candidates of color must be more qualified to be seriously considered. Additionally, these individuals face concerns about whether they are only in the pool to meet paper diversity expectations and not fully considered for their qualifications, which adds increasing pressure to an already daunting process of interviewing for campus leadership roles.
How we can be better
Understanding the challenges faced by minoritized groups is the first step. But we must not stop there.
Knowing that candidates of color may face more obstacles in navigating a search process that was not created to be racially inclusive, there are a few ways in which our team can help the candidates through a successful process.
Presidential searches can be lengthy and complex, so being honest and upfront with our candidates and helping them navigate the process allows them to be more prepared and on the same playing field as the other applicants. We can also bring our expertise to creating the position profiles, where we can aid search committees in using equitable and inclusive language. How certain requirements are phrased can inhibit candidates of color from either applying or being viewed as qualified for a role, so we aim to have open conversations to ensure institutions understand where these barriers may present themselves.
Another promising practice that can help mitigate inherent biases is providing a platform for search committees to openly discuss implicit bias with a guiding hand by us as consultants. One of our goals is to provide training for search committees and the Board of Trustees (when appropriate) for racial equity in searches. As the Whiteness Rules Report reminds us, racial equity work requires explicit attention to structural and institutional racism, which requires transforming organizational practices, policies, and cultures in order to ensure equitable outcomes. This is quite difficult to ensure in the search process; however, being mindful of these connections can lead to a more effective education and training experience for all involved.
Lastly, search committee formation is of critical importance. As the report also indicates, it matters who sits on the search committee, and as consultants, to the extent we can, we should guide and advise institutions on the selection of the committee members. Arguably, what matters most is to what degree critical race-consciousness and equity-mindedness are a part of committee members' understanding.
Working toward more equitable searches within higher education can be challenging. It takes tough conversations, particularly with those who may be hesitant of the change. What's more is the realization that to continue to move the needle forward, it takes courage, commitment, and the desire to do what is right for all candidates, as well as our partner institutions.
Ultimately, we must take our knowledge of the disparities in search and work with search committees to develop the best possible searches that are equitable for all persons applying, regardless of race, ethnicity, gender, age, or religion. Essentially, by understanding and helping to contextualize the concept of intersectionality we can better support candidates and help ground the differences we all bring.
Our team looks forward to adding the findings from Bensimon & Associates, along with their Tools to Redesign the Presidential Search Process for Racial Equity, to our toolkit and to continuing these conversations into the year ahead as we endure to build a more equitable and just leadership profile in the academy.
Vice President of Equity & Inclusion and Senior Consultant
Dr. Carlos N. Medina is Vice President for Equity & Inclusion and Senior Consultant for Academic Search. Previously, Dr. Medina served as the inaugural Vice Chancellor and Chief Diversity Officer for the State University of New York, the largest comprehensive system of higher education in the nation. He also served as regional representative to the Commission on Access, Diversity and Excellence of the Association of Public Land-Grant Universities (APLU), and as a Board Member for the National Association of Diversity Officers in Higher Education (NADOHE). He has more than 30 years of progressive leadership experience in state government and higher education.
Assistant Director of Marketing
Ms. Ashley Hunter has experience in various marketing and communication roles, with a focus on brand development and management. Prior to joining Academic Search, Ms. Hunter was the Assistant Director of Marketing and Communications at Buena Vista University in Storm Lake, IA. In this role, she served as a member of the crisis communications team and the diversity, equity, and inclusion task force, and held an interim role on the President's Council.
Enjoy our content? Join our mailing list.