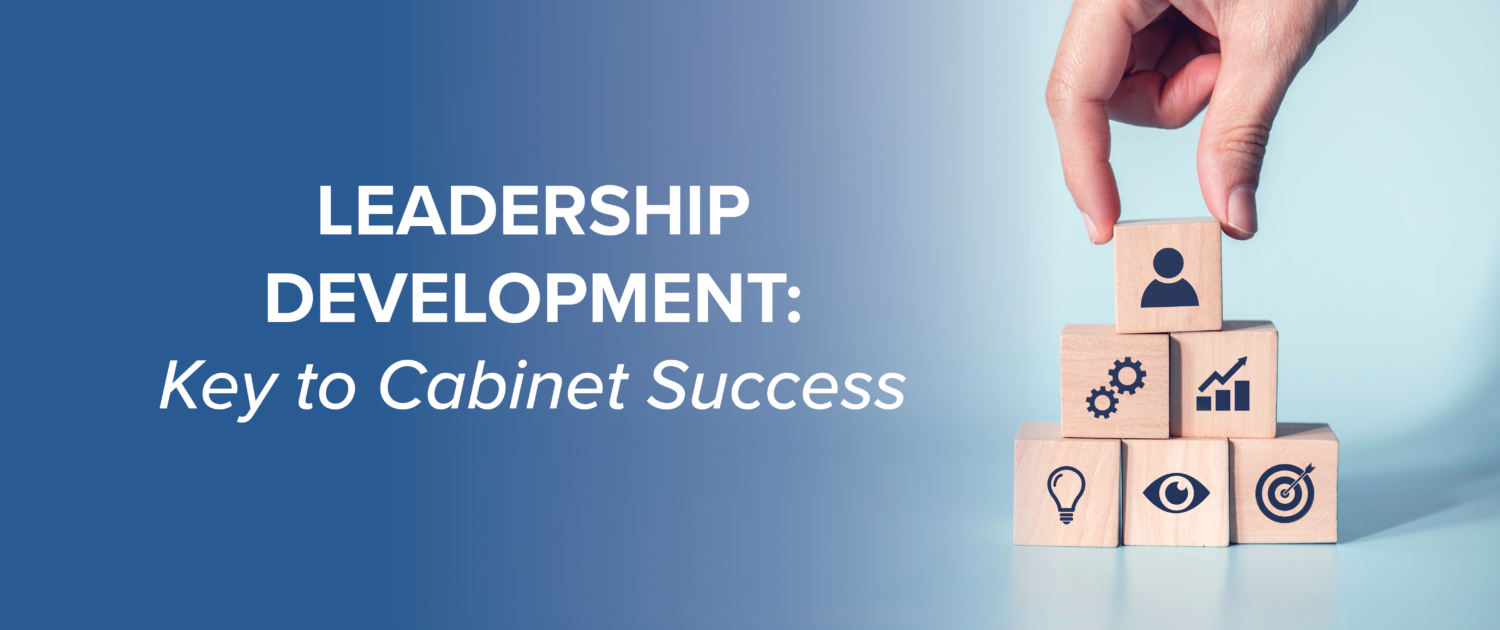 Leadership Development: Key to Cabinet Success
Cabinet officers play a vital role in the success of any institution. As they represent an institution's mission, values, and vision, they are imperative in planning for the future and working to create and implement strategies that propel an institution forward.
Cabinet members need to be visionary as they identify key goals, objectives, and priorities to guide change. They must also align budgets with priorities, and because there are typically competing demands for resources within any institution, it is key for leaders to be thoughtful and responsible when it comes to allocating resources.
Due to the complex organizational structures of higher education institutions, as well as the need to appease a wide range of stakeholders, cabinet members bear a lot of accountability. They are not only responsible for connecting with alumni and benefactors but for making decisions about students and their success. On top of that, they face external political influences, all while being responsible for managing their teams.
With these complexities and challenges in place for higher education leaders, it is becoming increasingly important that boards and presidents consider how leadership development programs, like those offered through the American Academic Leadership Institute (AALI), can help cabinet members, and how an effective cabinet, or lack thereof, can have lasting effects on an institution.
Strengthening a Shared Purpose
Higher education institutions are generally filled with individuals who are passionate about their work and believe in a shared purpose of educating students to be the next generation of leaders. But even with this common vision and drive, each university or college must recognize the need to help employees feel connected to the institutional mission and to their peers.
With more than 70 percent of individuals attributing their sense of purpose to their work (McKinsey & Company), the opportunity for individual leadership development is a must. Leadership development programs can aid institutions in building a stronger leadership team, and in turn, a stronger shared purpose.
A shared purpose can help cabinet members feel a stronger connection to the institution itself and their work, likely outperforming teams that feel ambiguous in their work, their purpose, and their institution's goals.
Transforming Institutional Culture
According to LinkedIn's 2023 Workplace Learning Report, 83 percent of organizations want to build a more people-centric culture. While a significant part of a cabinet's responsibility revolves around making operational decisions, it is important that cabinet members keep in mind that when all is said and done, they are ultimately people managers. The way the president and other members of the cabinet lead their employees sets the tone for the culture of the institution.
It is imperative that as decision-makers, cabinet members focus on developing skills that will help them to lead in a way that focuses on others within the university or college.
Whether members of the cabinet are working to align faculty on academic initiatives or considering a new program to increase student engagement, they need to be able to collaborate and come to a decision while also inspiring and empowering those who will be tasked with seeing through their decisions.
Through leadership development programs, cabinet members can gain a better understanding of and strengthen their skills in the areas needed to bolster an institutional culture that builds up its employees and leads to an environment of greater success overall.
Networking, Mentorship, and Skill Development
Through leadership development programming, cabinet members can also engage in networking opportunities, mentorship experiences, and skill development. As many responsibilities lie on the shoulders of leadership at an institution, leadership development programs are one way to assist them in finding their footing.
Leadership programs allow cabinet members to meet peers at other institutions who are often dealing with similar issues and encourage open conversations and collaboration. Through this networking, leaders can come to unique and innovative solutions that may not have originated from meetings within their own institutions. Working with external parties can be useful, as outside perspectives can bring less implicit bias toward a problem and enable more diverse solutions.
Leadership development programs also often have a mentorship component. This can be especially useful for younger or less-experienced cabinet officers who are given the chance to build greater self-awareness and self-confidence. Mentorship opportunities allow for a more personal and guided conversation between two individuals and can aid in a cabinet member's decision-making ability as they are able to engage in confidential conversations in which they garner feedback and have in-depth discussions.
Through leadership development programs, participants hone and develop their skillsets, including a better understanding of their strengths and weaknesses, and their ability to work with others. All of these aspects create stronger individuals, leading to stronger teams, and thus stronger institutions.
Adapting to the Changing Landscape of Higher Education
LinkedIn's Workplace Learning Report also shows that nearly 90 percent of leadership development experts believe that proactively building employee skills will help navigate the evolving future of work. Institutional leaders need to be cognizant that higher education is no exception. The higher education landscape is constantly evolving and especially in light of recent events, there has been a greater shift in how workplaces are organized and education is delivered.
For higher education, factors like who is enrolled at an institution can greatly affect the decisions being made by leadership and cabinet officers. According to an article by the National Association of Student Personnel Administrators (NASPA), about 40 percent of currently enrolled students are non-traditional—and this number is expected to continue to grow. In addition, for both traditional and non-traditional students, the student body is increasingly more diverse year over year. These changing enrollment trends can influence decisions on course deliverability, student support services, funding, and more.
Cabinet members need to recognize these changing trends and engage in leadership development that allows them to learn ways to be flexible and nimble in their decision-making so they may lead through these changes.
Our Passion for Leadership Development in the Academy
All in all, every institution is unique and should consider its leadership team's needs when engaging in leadership development. There is no one-size-fits-all leadership program that will suit all needs. Colleges and universities should work with organizations that offer curated programming so that they may find what is the right fit.
AALI, along with Academic Search, is committed to developing executive leaders and building stronger, more forward-thinking, and resourceful leadership teams. Cabinet members can grow their skills through annual programs like the Senior Leadership Academy, Executive Leadership Academy, and Becoming a Provost Academy. Institutions may also consider development opportunities through methods like executive coaching.
President, American Academic Leadership Institute
Dr. Javier Cevallos began his career as an Assistant Professor of Spanish at the University of Maine at Orono, before moving to the University of Massachusetts, where he held various positions. In 2002, he became the President of Kutztown University, followed by his presidency at Framingham State University from 2014 to 2022. Currently, he serves as President-in-Residence at the Harvard Graduate School of Education and President of AALI. Throughout his career, Dr. Cevallos has been actively involved in higher education organizations and community service, demonstrating his commitment to making a positive impact.
Enjoy our content? Join our mailing list.