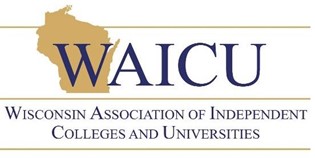 President and Chief Executive Officer
Application deadline: April 11, 2022
The Wisconsin Association of Independent Colleges and Universities (WAICU) invites nominations, expressions of interest, and applications for the next President/CEO of WAICU. This person will provide leadership, vision, and direction for WAICU at this important time in support of its member institutions.
Headquartered in Madison, Wisconsin, WAICU is the official organization of the 23 private, nonprofit colleges and universities of Wisconsin and their 53,000 students. Each WAICU member is a nonprofit, fully accredited, degree-granting institution of higher learning, but each is unique, with its own mission and culture. The 23 presidents sit as WAICU's Board of Directors.
WAICU is responsible for advocacy with the state and federal governments, advancement of private philanthropy for scholarships and internships, administration of more than 45 cost- savings services, a growing list of student access programs, such as college fairs and high school guidance counselor workshops, and publications. WAICU is a nonprofit 501(c)(3) organization.
The next President will succeed Dr. Rolf Wegenke, who will retire in 2022 after 30 years of exemplary leadership. WAICU's new leader will be creative and an agent of change with a reputation for integrity and creditable nonpartisanship. The next WAICU president takes on the responsibility of translating its mission into action on behalf of member institutions and the students and communities they serve. The president of WAICU is also CEO of three affiliated organizations: the WAICU Benefits Consortium (WBC), the WAICU Educational Technology Consortium (WAICU ETC), and the WAICU Retirement Readiness Plan (WRRP). The president also represents private, nonprofit colleges on statewide, regional, and national boards.
A full description of the position, including a leadership agenda, desired qualifications, and instructions on the application process can be found in the position profile: https://academicsearch.org/open-searches-public/ The Search Committee will begin reviewing applications in April in the order that they are received. Materials received by April 11, 2022 are assured full consideration. Applications should consist of a detailed letter of interest that
describes the candidate's interest and alignment with the president's responsibilities, a current curriculum vitae, and a list of five professional references with current contact information.
References will not be contacted without the permission of the candidate.
Applications, nominations, and expressions of interest can be submitted in confidence to WAICUpresident@academicsearch.org.
Academic Search is partnering with WAICU for this national search. Confidential discussions about this opportunity may be arranged by contacting Scott Flanagan, Senior Consultant, at scott.flanagan@academicsearch.org, or Disa Mason, Consultant, at disa.mason@academicsearch.org. Please use this Bookings link to access available times on Scott's calendar and set a call at your convenience: https://bit.ly/3JE4Vkg
WAICU is an Equal Opportunity Employer.