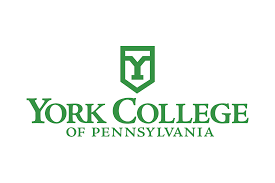 Dean of the School of the Arts, Communication and Global Studies
Application deadline: June 13, 2022
York College of Pennsylvania, in the beautiful south-central region of the state, seeks a new The Dean of the School of the Arts, Communication and Global Studies.  The Dean serves as the senior administrative officer of the School and works collaboratively with the faculty of the School as well as with the Deans of the other four Schools at York College.  The Dean will report directly to the Provost and Vice President of Academic Affairs and will be a member of the Deans' Council as well as the Provost's Council, which includes all of the direct reports to the Provost in the Academic Affairs division.
The College offers more than 60 undergraduate majors; master's degrees in accounting, nursing, business administration, leadership, and education; and a doctoral degree in nursing practice.  The student ratio is 14:1. The average class size is 19. Ninety-one percent of the 173 full-time faculty hold the highest degree available in their fields.  York College offers its 4,000 undergraduates all the benefits of a liberal arts education combined with focused preparation for future professional employment. 91% of recent graduates are employed or in graduate school six months after their graduation. The College's 300 graduate students are professionals prepared to enter the workforce and are able to think critically and creatively.
Over the past two years, YCP has reorganized its academic programs into five schools, with the School of the Arts, Communication and Global Studies as the hub, providing most of the courses required in the College's General Education Program, GenNext.  In addition to the five Schools, there is a Division of Graduate and Professional Programs as well as the newly formed Graham Center for Collaborative Innovation.  The GCCI has received a $6 million grant to help create a Knowledge Park on the campus to link industry, faculty, and students in the creation of new knowledge.
York College of Pennsylvania (YCP) is located in a vibrant mid-size city that is within 45 minutes of Baltimore and Harrisburg and two hours from Washington, DC. The College's campus covers 190 acres, providing a safe and friendly environment for learning.
For more information about the institution, position, leadership agenda, qualifications, and application process, please review the search prospectus, available for download, on the Academic Search website. Additional information about York College is available at www.ycp.edu.
Kate Nolde of Academic Search is assisting with this national search. Applications, nominations, and inquiries may be sent in confidence to YorkDean@academicsearch.org.  Please feel free to reach out to Kate at kate.nolde@academicsearch.org to arrange for a confidential conversation about the opportunity.  Although application materials will be accepted until the time that a new Dean is selected, candidates should submit materials by June 13, 2022, for the most favorable consideration.
York College of Pennsylvania is an Equal Opportunity Employer.