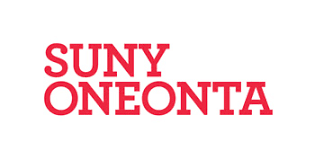 Associate Vice President for College Advancement
Application deadline: Open until filled
About SUNY Oneonta
SUNY Oneonta enrolls about 6,500 students who pursue bachelor's or master's degrees or certificates in one of 60-plus academic programs. Known as an exemplary residential campus that values inclusion, service and sustainability, SUNY Oneonta is a nurturing community where students grow intellectually, thrive socially, and live purposefully.
The College is located in the City of Oneonta, nestled in the northern foothills of the Catskill Mountains about a four-hour drive from New York City, Boston, and Philadelphia. With a population just shy of 14,000, Oneonta is one of the top 20 picturesque small towns in America, according to Microsoft News. The natural beauty of the region is breathtaking year-round. Each season offers outdoor activities such as hiking, biking, boating, swimming, and skiing. Employees give SUNY Oneonta high marks for work/life balance, management, and culture. The College's indeed.com rating is 4.5 with one recent review noting that it's the people that make SUNY Oneonta so special.
The Division of College Advancement at the State University of New York College at Oneonta (SUNY Oneonta) invites applications for the position of Associate Vice President (AVP) for College Advancement, a key leadership position in major gifts solicitation, implementation of fundraising programs, and divisional planning. The AVP is a major gifts officer with a portfolio of donors, and travels to solicit alumni and other individuals for support of SUNY Oneonta's mission and institutional programs. This position includes supervision and management of staff, and reports to the Vice President for College Advancement/Executive Director of the College at Oneonta Foundation.
The successful candidate will join an experienced, dynamic Advancement team that has forward momentum as it enters the final year of our Grow. Thrive. Live. comprehensive campaign. The Division of College Advancement works to increase charitable giving for the College, strengthen alumni traditions and networks, and build sustained, long-term relationships that promote the reputation and success of the College.
To learn more about the College and the Division of College Advancement, please visit https://suny.oneonta.edu/ and https://suny.oneonta.edu/division-college-advancement.
 Job Description
Responsibilities of the AVP include but are not limited to: major gift solicitations through a portfolio of donors with the goal to secure significant gifts of $25,000 to $1 million and above; campaign planning; collaboration with and support of volunteers, faculty and staff, the Vice President for College Advancement and other Advancement colleagues; supervision and mentoring of three gift officers responsible for major gift solicitations and an administrative assistant. The successful candidate will display excellent fundraising skills in addition to communication, planning and analytical skills, supervisory and management expertise, creativity, and the ability to work collaboratively as a member of the College Advancement team.
Required Qualifications: bachelor's degree; five years or more of progressive fundraising and development experience; record of successfully raising major gifts of $25,000 and above; excellent communication skills; proven ability to work independently and simultaneously as part of a team; a valid driver's license and commitment to travel and work evenings and weekends as needed.
Preferred Qualifications: experience working with leadership volunteers; experience working in higher education; supervisory and management experience; ability to build relationships; evidence of community engagement and service; CFRE designation from the Association of Fundraising Professionals; and experience working with and serving diverse populations.
Nominations, Inquiries, and Applications
Assisting SUNY Oneonta with this search is Academic Search Senior Consultant Mahauganee Shaw.  Nominators and prospective applicants interested in arranging a confidential discussion about this opportunity with Dr. Shaw may use this link to schedule a phone call.
Nominations and questions regarding the position can be sent to OneontaAVP@academicsearch.org.
 To apply online go to: http://oneonta.interviewexchange.com/candapply.jsp?JOBID=143295
Please upload a letter of interest and a resume. Contact information for three professional references will be required later in the search process.
For other employment and regional opportunities, please visit the College's website at: https://suny.oneonta.edu/about-oneonta/employment.
Pursuant to Executive Order 161, no State entity, as defined by the Executive Order, is permitted to ask, or mandate, in any form, that an applicant for employment provide his or her current compensation, or any prior compensation history, until such time as the applicant is extended a conditional offer of employment with compensation. If such information has been requested from you before such time, please contact the Governor's Office of Employee Relations at (518) 474-6988 or via email at info@goer.ny.gov.
SUNY Oneonta values a diverse college community. Please visit our website on diversity at: https://suny.oneonta.edu/diversity. Moreover, the College is an Equal Opportunity/Affirmative Action employer. Women, persons of color, persons with disabilities, and protected veterans are encouraged to apply.