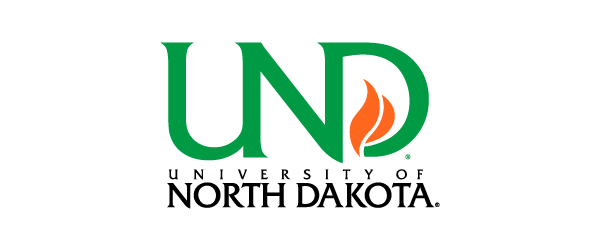 Vice President for Research & Economic Development
Application deadline: August 22, 2023
The University of North Dakota (UND) seeks a dynamic and team-oriented vice president for research and economic development (VPRED) who will advance research, creative activity, and scholarship in a new era of dramatic and sustained growth in external research funding to position UND among the top research institutions in the nation.
The next VPRED will leverage statewide strengths and collaborations with supportive elected and appointed governmental officials, the growing business and corporate sector, a vibrant entrepreneurial community, a committed faculty and staff, the major nonprofits advancing the State, and a loyal alumni and donor base. The VPRED will have the resources and opportunities to move UND and its research agenda forward in a dramatic way.
Located on an active 521-acre campus in Grand Forks, ND, a vibrant college town of 62,000 residents, UND has a student enrollment of nearly 14,000 and offers more than 225 fields of study across nine colleges. UND is accredited by the Higher Learning Commission (HLC), with a Carnegie classification of R2 (High Research Activity) based on 2020 data and $117 million in research expenditures. Since that ranking, UND has seen significant growth, with expenditures now at nearly $150 million annually. This growth trajectory will continue and positions UND to make the jump to the very highest level of research under the Carnegie classification.
The University of North Dakota is home to internationally recognized research programs that contribute to the creation of new knowledge, to the economy of the state of North Dakota, and to the well-being of people across the globe. UND has emerged as a leader in energy, engineering, medicine, aviation, space, and unmanned aircraft systems. In January 2023, the University launched UND LEADS, a strategic vision for the future that is grounded in five pillars: Learning, Equity, Affinity, Discovery, and Service. From its six research Grand Challenges to other grant-funded research programs and individual scholarship, the spirit of discovery and innovation on campus is central to the institution's mission and a critical element of UND LEADS.
In pursuit of these goals, the vice president for research and economic development will lead the operations of sponsored programs and identify opportunities to build relationships aimed at securing external funding from federal, state, and industry sponsors and partners, while heading efforts to transition research and intellectual property toward commercial viability, via partnerships with industry and others. The VPRED will build research capacity through the recruitment and retention of research-active faculty and students; support philanthropic efforts to create endowed positions, scholarships, laboratories, and research; and enhance undergraduate research programs as a vital part of the student experience while growing the graduate student research enterprise.
The VPRED will report to the president and, as a member of the President's Executive Council, will work with campus leadership to help coordinate and manage resources that support a strategic balance of breadth and depth in scholarship across campus. The VPRED will develop and sustain university partnerships across the nation and within the state, as well as oversee compliance with human subjects and animal research, intellectual property and commercialization, export control and research security; manage staff, budgets, and expenditures and enhance and improve UND's research business processes and reporting to facilitate strategic and data-based decisions. Additionally, the VPRED will serve as liaison to the federal congressional delegation, local staffers, and legislative liaisons, and participate in the development and delivery of the UND legislative agenda.
The successful candidate must possess a terminal degree in a relevant field or equivalent degree and a minimum of five years of demonstrated leadership and administrative experience, including budgetary and development experience, in a university or in a relevant professional field, industry, or government. The ideal candidate would also have demonstrated success in working with federal funding agencies; a proven record of securing external funding; a demonstrated commitment to education, scholarship, research, and commercialization; and a record of academic achievement meriting appointment as a tenured professor.
A position profile with additional information on the University and the position is available at the link above. The anticipated start date for the successful candidate is January 8, 2024, or as soon as reasonable thereafter.
How to Apply
Applications should include a substantive letter of interest (not more than three pages) specifically addressing the applicant's background in relationship to the qualifications described, a current résumé or curriculum vitae, and a list of five professional references with full contact information and a note indicating the nature of the working relationships with each. No references will be contacted without the explicit permission of the candidate. Applications, nominations, and expressions of interest can be submitted electronically, and in confidence, to: UNDVPRED@academicsearch.org.
Applications received by Tuesday, August 22, 2023, are assured consideration. The UND Vice President for Research & Economic Development Search Committee is being assisted by Academic Search. Confidential discussions about this opportunity may be arranged by contacting consultants Ann Hasselmo at Ann.Hasselmo@academicsearch.org and Chris Butler at Chris.Butler@academicsearch.org.
Applicants needing reasonable accommodation to participate in this application process should contact Academic Search at 202-332-4049.
Additional University information may be found at UND.edu/research/about/vpred-search.html.
EEO Statement
The University of North Dakota is an Affirmative Action/Equal Opportunity Employer. All qualified applicants will receive consideration for employment without regard to race, color, religion, sex, sexual orientation, gender identity, national origin, disability or other protected characteristic. Women, minorities, veterans, individuals with disabilities, and members of other underrepresented groups are especially encouraged to apply. Applicants are invited to provide information regarding their gender, race and/or ethnicity, veteran's status and disability status as part of the application process. This information will remain confidential and separate from your application.
Veterans Preference
Veterans claiming preference must submit all proof of eligibility by the closing date. Proof of eligibility includes a DD-214 or NGB 22 and, if claiming disabled status, a current letter of disability from the VA dated within the past 12 months.
U.S. Citizenship Requirement
This position requires compliance with U.S. government export control laws and regulations. Applicants are required to be eligible for employment under U.S. export control laws and must meet the requirement of being a "U.S. Person" (U.S. citizen, lawful permanent resident, or protected individual as defined by 8 U.S.C.1324b (a)(3)). UND will not sponsor applicants for employment authorization for this position. Information collected in this regard will only be used to ensure compliance with U.S. export control laws and will be used in compliance with all laws prohibiting discrimination on the basis of national origin and other factors.
Confidentiality of Application Materials
Pursuant to NDCC 44-04-18.27, applications and any records related to the applications that identify an applicant are confidential, except records related to the finalists of the position, which are open to the public after the search committee has identified three or more finalists who will be invited to campus.