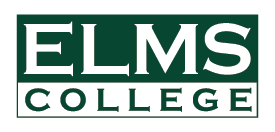 Chair of the Division of Education
Application deadline: November 6, 2023
The College of Our Lady of the Elms (Elms College) invites applications, nominations, and expressions of interest for the Chair of the Division of Education. The Chair carries the primary responsibility to advance the division, ensuring academic excellence through curricular quality, assessment, faculty scholarship and service.
Founded in 1928, Elms College is a Catholic, coeducational institution dedicated to educating all students of all backgrounds and faith traditions. Elms offers an outstanding liberal arts and science core, strong professional programs, and select master's and doctoral degrees for career preparation in an academic environment that encourages scholarship, leadership, caring and commitment. Elms College is dedicated to an academic strategy based on developing a strong sense of what each person can contribute to the world, to their community, and to one another.
The College seeks an academic leader with experience in program and curriculum development, licensure and accreditation requirements regulated by the Massachusetts Department of Elementary and Secondary Education (DESE), and a demonstrated commitment to educational access and success. The successful candidate will hold an earned doctorate appropriate for appointment as a tenured, associate professor of Education, and a record of accomplishment in teaching, scholarship, and professional service.
Elms College is located in Chicopee, Massachusetts, in the heart of the Pioneer Valley with easy access to I-91 and the Mass Turnpike. Boston is 90 minutes away and Hartford, Connecticut and Bradley International Airport are 30 minutes away. Elms College's location in western Massachusetts, in proximity to Springfield, Northampton, and Amherst, offers a wide array of outdoor, cultural, and intellectual opportunities. The College is located near many hiking and skiing attractions in the Berkshires and southern Vermont.
Academic Search is assisting Elms College with this search. For more information about the opportunity, institution, qualifications, and application process, please download the full position profile from the Academic Search website. An application should include (in three separate PDF attachments): 1) a letter of interest that responds to the leadership agenda, 2) a full CV/resume, and 3) a list of five professional references, including email addresses and a brief note of the candidate's working relationship with each; references will not be contacted without the explicit permission of the candidate.  All submissions will be treated in confidence and should be sent electronically, to ELMSChair@academicsearch.org. Those who are considering applying should schedule a confidential conversation with Senior Consultant Dr. Nancy Crimmin at nancy.crimmin@academicsearch.org.
For full consideration, submit materials by November 6, 2023. Applications will be accepted until the position is filled.
Elms College is an all-inclusive community of dedicated faculty and staff who strive to serve the needs of each and every Elms College student. Elms College does not discriminate on the basis of race, color, religion, sex, age, national origin, sexual orientation, or mental or physical disability for any job opening. Elms College is an Equal Opportunity employer. We educate individuals from diverse communities and cultures, and therefore encourage applications from women, minorities and individuals with a commitment to supporting the success of underrepresented groups. The College fully complies with the requirements of Title VII of the Civil Rights Act of 1964, Title IX of the Education Amendment of 1972, the Rehabilitation Act of 1973, and all other applicable federal, state, and local statutes, ordinances, and regulations.