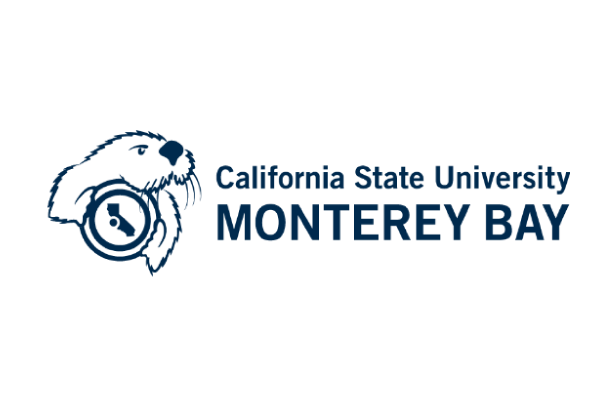 Provost and Vice President for Academic Affairs
Application deadline: January 8, 2020
Provost and Vice President for Academic Affairs
California State University, Monterey Bay (CSUMB), a growing, dynamic, vision-driven comprehensive state university with a strong culture of educational innovation and a deep commitment to its role as a regional steward, seeks its next Provost and Vice President for Academic Affairs.
Powered by an inspiring Founding Vision Statement, CSUMB is a mid-sized comprehensive masters/baccalaureate granting university whose staff and faculty help transform student lives through a focus on student success and engagement in its regional community. CSUMB is both an MSI and HSI and has a vibrant, diverse student body of over 7,600 students and growing. The university's faculty and staff, many of whom live in campus housing, appreciate living and working about one mile from the shores of the beautiful Monterey Bay. As one of the 23 campuses in the California State University (CSU) system, CSUMB offers excellent benefits, including access to below market rate campus housing, and competitive salaries for faculty and staff. During the university's 25th Silver Anniversary Celebration in 2019-20, two major building projects will be completed: the College of Arts, Humanities and Social Sciences and the Student Union. By 2030, CSUMB's sustainability initiative is to be carbon neutral. CSUMB's founding vision document continues to guide the development of the campus, which is envisioned as a comprehensive state university that values service through high quality education.
CSUMB's academic program is distinctive in its commitment to active, engaged, interdisciplinary approaches to teaching and learning, and to the cultivation of students' civic learning and literacy. It has integrated high-impact practices throughout its academic programs, embracing first-year seminars, applied and project-based learning, required service learning, senior capstones, and undergraduate research. CSUMB is deeply committed to innovative educational practices, employing outcomes-based approaches to student learning and assessment, and to cultivating its faculty's capacity for engaged, applied research. The university has built strong collaborations with the region's educational, non-profit, research, and other institutions. Within the Academic Affairs administrative division, six colleges oversee CSUMB's academic operations. Each college includes several academic units that deliver degrees, minors, and other academic offerings. The university currently offers a total of 25 undergraduate degrees with over 30 concentrations, 36 minors, eight graduate degrees, and several teacher-certification options. CSUMB has about 194 tenured/tenure-track faculty and 298 lecturers and the annual operating budget is $123 million.
Reporting directly to the President, the Provost and Vice President for Academic Affairs serves as the Chief Academic Officer, the senior member of the President's Cabinet, and the chief executive officer in the absence of the President. Direct reports include the Academic Deans and Associate/Assistant Vice Presidents, the Dean of Extended Education and International Programs, the Chief Information Officer and the Director of Sponsored Programs. The Provost and Vice President for Academic Affairs will have a strong academic record as well as a proven record of leadership and administrative ability. The successful candidate will have an academic philosophy that aligns with and supports CSUMB's vision and mission; will reflect a strong understanding of current issues in academic and higher education; will provide leadership in academic planning, curricular excellence, outstanding teaching, research and service; will understand and support shared governance and consensus building with the faculty; and will hold a proven record of supporting enrollment growth and student success with a diverse student body.
Minimum Qualifications
An earned doctorate or appropriate terminal degree
Distinguished record of intellectual leadership and scholarship sufficient to warrant appointment in an academic unit at the level of full professor
A significant and progressive record of higher education leadership experience
Evidence of innovative leadership in academic planning and implementation, program development, and personnel and budget management
Demonstrated leadership implementing a university mission within a complex and academically strong institution
Strong financial management skills with the ability to make strategic budget decisions within limited resources
Demonstrated understanding of the core values of mutual respect, collaboration and service orientation, multiculturalism and diversity, community service, and institutional excellence
Evidence of participation in and support of shared governance
Demonstrated skills in fostering excellence in teaching, research, scholarship, creative activity, and public and professional service
Demonstrated commitment to student success
Preferred Qualifications
Proven experience with personnel issues related to faculty and staff
Demonstrated experience in providing support and leadership in a diverse educational environment with historically underrepresented populations
Knowledge of innovative pedagogies that support learning and scholarly activity
Knowledge of and experience with the use of technology in an academic setting
Experience promoting and representing an institution to internal and external constituencies
Knowledge of and experience with strategic planning
Experience with enrollment management, enrollment growth, and the ability to coordinate academic program plans with outreach and enrollment service efforts
Experience in interdisciplinary, outcomes-based academic models
Knowledge of and experience with accreditation
Experience building and/or supporting post-baccalaureate and Masters programs
How to Apply
Applications should consist of a substantive cover letter, a curriculum vitae and a list of five professional references with full contact information. No references will be contacted without the explicit permission of the candidate. Applications, nominations and expressions of interest can be submitted electronically, and in confidence, to:
CSUMBProvost@academicsearch.org
The position is open until filled but only applications received by January 8, 2020, can be assured full consideration. The University is being assisted by Academic Search, Inc. Confidential discussions about this opportunity may be arranged by contacting consultants Ann Die Hasselmo at Ann.Hasselmo@academicsearch.org and Chris Butler at Chris.Butler@academicsearch.org. Further information about CSUMB is available at www.csumb.edu.
CSUMB is an Equal Opportunity Affirmative Action employer. We consider qualified applicants for employment without regard to race, color, religion, national origin, age, gender, gender identity or expression, sexual orientation, genetic information, medical condition, pregnancy, marital status, veteran status, or disability.
All employees must be eligible for employment in the U.S.