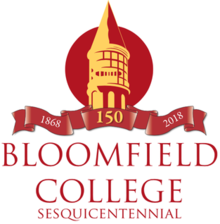 Vice President for Institutional Advancement
Application deadline: December 11, 2019
The President and Board of Trustees of Bloomfield College invite applications and nominations for the position of Vice President for Institutional Advancement (VPIA). Under the leadership of its new President Dr. Marcheta P. Evans, Bloomfield College is at a critical inflection point in its history. The successful candidate will be a seasoned fundraising professional who values the importance of providing educational opportunities to a diverse student population, many of whom are first-generation, low-income students. The VPIA will bring a strong record of success leading major fundraising campaigns, building community partnerships, and developing innovative programs to support institutional initiatives.
Bloomfield College is a "workforce-ready" institution and offers bachelor's and master's degrees in the liberal arts and professional fields. Currently, there are 61 full-time faculty members; the faculty is unionized. Student enrollment stands at 1,628 students, with 92% as full-time undergraduates.
Bloomfield College's current operating budget is $42 million. The College's endowment currently stands in excess of $14 million. In addition, the College has a reserve fund of $12 million.
The next VPIA at Bloomfield College should possess a bachelor's degree and at least 10 years of experience in philanthropy, institutional advancement, and/or fundraising. Candidates from outside of higher duration with comparable experience in the non-profit or business sectors are encouraged to apply.
Academic Search is assisting Bloomfield College in this search. Nominators and prospective candidates may arrange a confidential conversation about this opportunity with one of the senior consultants leading the search: Maya Kirkhope (Maya.Kirkhope@academicsearch.org) and Cynthia M. Patterson (Cynthia.Patterson@academicsearch.org).
To apply, a candidate should submit: 1) a letter of intent addressing how the candidate's experiences match the position requirements, 2) a current CV/resume, and 3) contact information for at least five professional references, including email addresses and a brief note of the candidate's working relationship with each.
Please send materials as an email attachment in Word (3 separate documents) to BloomfieldVPIA@academicsearch.org. For full consideration by the search committee, applicant materials should be submitted by Wednesday, December 11, 2019. Additional information about the institution can be found at https://www.bloomfield.edu.
By Bloomfield College's policy and search committee affirmation, all information from and about candidates will be kept in strict confidence.
Bloomfield College is an equal opportunity employer.