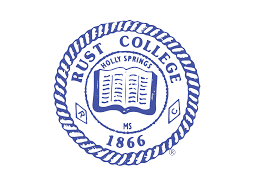 Vice President for Academic Affairs
Application deadline: May 7, 2021
Rust College, the oldest historically black college (HBCU) and the second oldest college in the state of Mississippi, invites applications and nominations for the position of Vice President for Academic Affairs.      Rust College is located in the city of Holly Springs in the Northwestern part of Mississippi, approximately 35 miles southeast of Memphis, Tennessee.
The Rust College community seeks to attract a leader with strong interpersonal skills who can support the College's mission, faculty and students through a time of transformation. The incoming VP will join the College at a critical time with the unique opportunity to work alongside a new President to help chart a course forward. In doing so, the VP will establish a vision for academic affairs, engage with the faculty in support of innovation and be dedicated to implementing change. Members of the President's Cabinet must bring ideas that build on institutional mission and values yet extend the institutional reach in new directions. The VP will be a collaborative but decisive leader. Housing is available to the selected candidate.
Rust College seeks candidates with the following additional knowledge, skills, and characteristics:
A leadership style that is collaborative and effective in achieving institutional priorities
Extensive knowledge of the rapidly changing landscape of higher education, and a willingness to lead a change agenda
Understanding and appreciation of the small HBCU experience
Commitment to shared governance; an understanding and appreciation for faculty
Knowledge of, and experience with outcomes, programmatic and/or institutional assessment processes, methods and strategies
Ability to foster and sustain an academic culture that promotes innovation and excellence in teaching and learning
Excellent interpersonal and communication skills
Successful experience with financial management, strategic planning and integration of technology into higher education
Knowledge of the best practices in higher education and how to adapt them creatively to Rust's environment
Demonstrated excellence in teaching
Management style that is collegial and accessible
Successful experience as the equivalent of a department chair and a dean
Sound decision making that is data-driven
Willingness to play a leadership role in the Holly Springs community
Student-centered perspective
Successful grant writing/fundraising skills
An awareness of current and impending market and societal trends affecting undergraduate and graduate education, both domestic and international
Successful experience developing and supporting partnerships and articulation agreements
Successful experience with regional accreditation
A vision consistent with the College's vision
Successful research preferred
For more information about this position, the College, qualifications, as well as the application process, please review the full profile on the Academic Search open searches page at: https://academicsearch.org/open-searches-public/.
The search is being assisted by Academic Search, Inc. To arrange a confidential conversation about this position please contact the senior consultant managing the search, Dr. Shirley Robinson Pippins at shirley.pippins@academicsearch.org.  The position is open until filled, and applications received by   May 7, 2021 are assured full consideration.
The anticipated start date for the role is on or about July 15, 2021. To apply, a candidate should prepare a thoughtful letter of interest addressing the leadership agenda and the required and desired qualifications. Include also a current, long-form resume or curriculum vita (showing relevant administrative responsibilities and accomplishments) and the names, phone numbers, and addresses of at least five professional references, with an indication of the candidate's relationship to each reference. References will not be contacted until a later stage in the search, and only with the candidate's foreknowledge. Nominations and application materials should be sent to RustVPAA@academicsearch.org