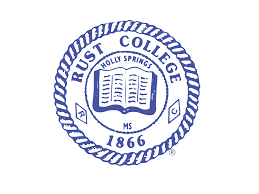 Vice President for Enrollment Management
Application deadline: May 7, 2021
Rust College, the oldest historically black college (HBCU) and the second oldest college in the state of Mississippi, invites applications and nominations for the position of Vice President for Enrollment Management.  Rust College is located in the city of Holly Springs in the Northwestern part of Mississippi, approximately 35 miles southeast of Memphis, Tennessee.
The VPEM has responsibility for the vision, strategy, and implementation of all full-time student recruitment-oriented initiatives and services, and the financial aid systems and registration for all students. The VPEM develops enrollment and financial aid goals in support of the Rust College strategic plan and documents progress toward these goals. Housing is available to the selected candidate.
Qualifications of the Rust College Vice President for Enrollment Management
The President and the Search Committee have identified the following criteria to be addressed in letters of application.
Requirements:
The successful VPEM candidate will hold a master's degree; an earned doctorate or other
terminal degree may be considered an asset.
Progressively responsible and successful leadership roles in admission at a college or
university
Knowledge of financial aid rules, policies and procedures
Desired Attributes:
A minimum of five years of extensive, progressive, and effective planning and decision-making experience in admissions, enrollment management, financial aid, registration and related areas
Experience at an HBCU
A track record of increasing enrollment at a private college or university
Experience with successful on-line learning enrollment strategies
Ability to leverage financial aid
Experience in data-based decision-making
Familiarity with Ellucian's Colleague system
A collaborative leadership style
Ability to work across the functional areas at the college
Success in marketing the college with a focus on using digital strategies
Ability to create processes to communicate internally and externally in a timely manner
Ability to work with a diverse staff
Ability to recruit and retain diverse populations
Participation in state, regional, and national organizations
Ability to understand and articulate the vision of Rust College
Comfortable with the latest in technological developments in the functional area; ability to streamline and modernize systems and processes
Ability to relate well with faculty
Student-centered perspective
Ability to eliminate silos and create seamless experiences for students
For more information about this position, the College, qualifications, as well as the application process, please review the full profile on the Academic Search open searches page at: https://academicsearch.org/open-searches-public/.
The search is being assisted by Academic Search, Inc. To arrange a confidential conversation about this position please contact the senior consultant managing the search, Dr. Shirley Robinson Pippins at shirley.pippins@academicsearch.org.  The position is open until filled, and applications received by
May 7, 2021 are assured full consideration.
The anticipated start date for the role is on or about July 15, 2021. To apply, a candidate should prepare a thoughtful letter of interest addressing the leadership agenda and the required and desired qualifications. Include also a current, long-form resume or curriculum vita (showing relevant administrative responsibilities and accomplishments) and the names, phone numbers, and addresses of at least five professional references, with an indication of the candidate's relationship to each reference. References will not be contacted until a later stage in the search, and only with the candidate's foreknowledge. Nominations and application materials should be sent to RustVPEM@academicsearch.org.